Don't throw out WWII stuff, museums will take it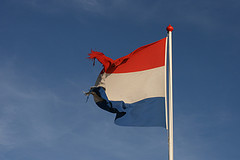 Today, sixteen of the country's resistance and war museums are calling on people to give them objects from WWII such as books, documents, photos and more that they no longer want to keep. Most importantly, the museums don't want people to throw anything out, as there is still a lot out there to collect.
Some Dutch videos show people handing in clothing, embroidery, letters, jewellery and more.
And a bit like The Antique Roadshow programme where people have gran's old pendant appraised, museums probably know a lot more about many of the objects than their current owners do.
Although I have yet to visit many war-related sites in the Netherlands, I very much enjoyed the Groesbeek Canadian War Cemetery, which I visited when I used to live in nearby Nijmegen. It has more than two thousand Canadian soldiers buried there, along with Poles, Moroccans, Pakistanis and others that fought in WWII. Wikipedia states that bodies were moved across international frontiers, so that the Canadians would not be buried in German soil, something rarely done internationally.
(Link: www.gelderlander.nl)