Rotterdames, 3 times 52 odes to the women of Rotterdam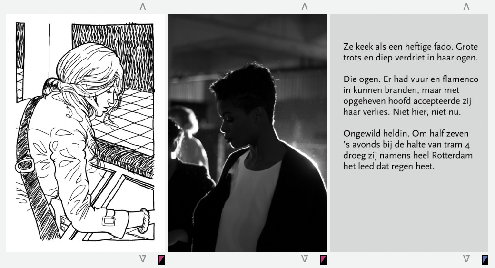 The name may be a bit unfortunate—rot means the same thing in Dutch as it does in English—but what were they to do?
They being three artists who post their own odes to the women of Rotterdam each week at Rotterdames.net, creating a vivid cross section of the second-largest city of the Netherlands in the process. Baschz is the sketch artist, Milan Boonstra the photographer and Janjoost Jullens the writer of the website.
According to De Weekkrant, the artists have already published more than 100 odes and are well on their way to their goal of 156 odes.
The news site quotes Janjoost Jullens about what makes the women of Rotterdam so special: "They are real, more real than anywhere else. They do not need to be pretty in a model kind of way. In Amsterdam the ladies look beautiful from a distance, but when you get closer you see it is all fake. In Rotteram what you see is what you get. We would like to thank the women of Rotterdam for that. Our odes are really a sort of 'thank you'."
And in that spirit I would like to tip my hat to Rotterdame Astrid Oosenburg for telling me about this initiative.
No Comments »
No comments yet.