Dutch artists help spruce up Philadelphia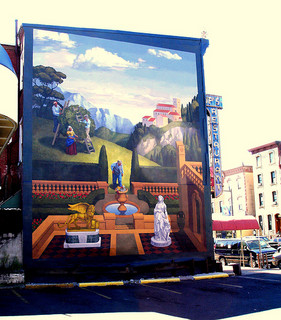 Back in 2010 Dré Urhahn and Jeroen Koolhaas painted favelas in Brazil, now they are helping to revive one of the worst neighbourhoods in the US, Germantown in Philadelphia, which is full of drugs, murder, poverty and violence.
The goal of the Philly Painting project is to revive the neighbourhood and turn it into a new historic landmark. Follow the link and watch some videos about the project.
Over the course of their residency, Haas & Hahn are being challenged to consider design not just for a block but for an entire commercial corridor. Philadelphia's Commerce Department, a major partner in this effort, recognizes the potential of a major project like this to radiate optimism and serve as catalyst for additional positive change and commercial potential.
There are photos galore here.
(Link: www.rnw.nl, Photo of Philly mural by dwweber, some rights reserved)
No Comments »
No comments yet.