Favela chic and colourful in Brazil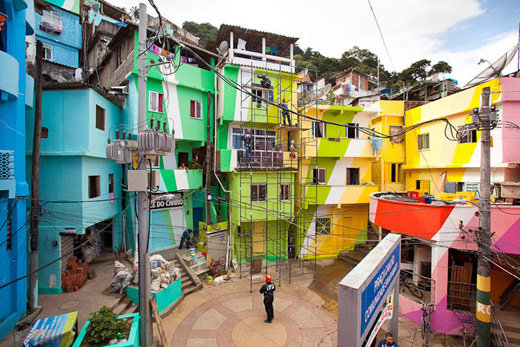 On 29 March 2010 we finished work on the latest favela painting and our first part of 'O Morro': Praça Cantão. It is central square at the foot of the community of Santa Marta, a favela in the heart of Rio de Janeiro.
Livening up slums in Brazil is a project by Haas & Hahn – Jeroen Koolhaas and Dre Urhahn. They once filmed a documentary on hip hop in the favelas of Rio de Janeiro and São Paolo for MTV, after which they decided to bring funky works of art to unexpected places, starting with painting enormous murals in the slums of Brazil together with the local youth.
The goal is to have the 'O Morro' project sponsored by a community of supporters who will finance the infrastructure, materials and people needed to complete the work. You can donate through their site in a number of ways, including one text message every month for just 3 euro a pop.
Find out more about this project on Facebook and Twitter.
(Link: trendbeheer.com, Photo; favelapainting)