Rotterdam to open 'embassy' in Amsterdam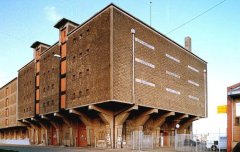 Back in 2009 the region of Twente planned to open an 'embassy' in Amsterdam. No idea if they actually did, but it sounded cool.
Now the city of Rotterdam, the Netherlands' second largest city, is scheduled to open an 'embassy' (delegate, house of Rotterdam) in the capital.
According to one of the initiators Kristian Koreman, the 'embassy' must ensure more "intercultural exchanges" between Rotterdam and Amsterdam (aka 010 and 020, phone exchanges and pet names for the cities) "We will open next Wednesday in Pakhuis de Zwijger (shown above) and be open periodically."
Of course, Rotterdam will also get an Amsterdam 'embassy' , which will open its doors on 21 November in Rotterdam.
(Link: www.at5, Photo of Pakhuis de Zwijger, hub for many "new media" events and initiatives in Amsterdam, by bMA, may be used under condition that the source is mentioned.)
No Comments »
No comments yet.