Dutch region of Twente to open 'embassy'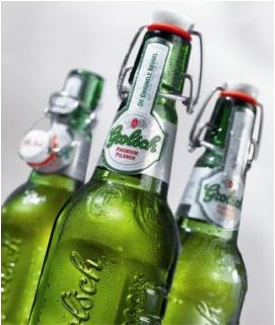 The eastern provinceregion of Twente is planning to open what it calls an 'embassy' in Amsterdam at the request of businesses who want to promote the region to a wider audience. The location will rent office space, serve food and drink, and be open to anyone interested in whatever Twente has to offer.
So far, all the possible office locations are in the Red Light District, making journalists' life easier this morning with the puns and choice of photos. I can imagine that business people form Twente meeting Dutch and foreign clients in Amsterdam want to meet somewhere more pleasant than at the dreary Amsterdam train station plagued with the nowhere-near-ready subway station.
I think it's a great idea, a nice way to connect with the some 20,000 people from Twente living in Amsterdam and obviously an excellent way to attract attention to the region. But what comes from Twente? Well, Grolsch beer (see photo) does, the only Dutch beer to really rival Heineken outside the country.
Come on, people of Twente, tell us more about your region and leave the fireworks factory explosion in Enschede and other nasty stories out of it!
(Link: enschede.tctubantia.nl)