Dutch photographer snaps couples who dress the same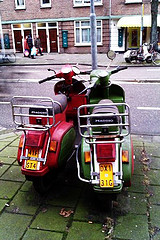 I learnt somewhere during my university years that children are seen as a generic group of humans. Then boys and girls and men and women are defined separately because they are sexually active. Eventually when women become infertile (they are the benchmark), both men and women are referred to as the elderly, going back to being a generic group of humans.
This set of photographs of mainly elderly people seems to back up my story. Dutch photographer George Maas took pictures of couples, men and women who are dressed almost alike. The last five years he managed to photograph 56 couples of all kinds.
I wonder if elderly gays and lesbians are inclined to follow suit (ha, pun).
(Link: www.jut-en-jul.nl, via www.iamexpat.nl)
No Comments »
No comments yet.