Dutch whizz kid rules as WWII Lego specialist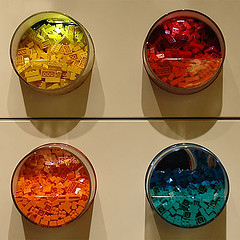 Dutch 14-year-old Stijn Oom has taken his Lego blocks up a few levels and made some fantastic WWII creations without using pre-existing Lego kits. He started building serious models when he was just five and hasn't stopped since.
Flickr has helped him connect with enthusiasts and surely helped boost his ever-increasing popularity. "When I discovered Flickr, I found out that there was a HUGE Lego community going on! Reactions on builds, comments, favorites! It was the perfect system for every young builder." Flickr is used by Lego fans to share their creations and they like it because they can annotate their images.
Why doesn't Lego make military sets like there? Because it's part of the company's policy to not make anything military, with the exception of the Star Wars kits.
(Links: gizmodo.com, fooyoh.com, Photo of Lego by tiptoe, some rights reserved)
2 Comments »
Wow. And with out kits. That is impressive.

Comment by Invader_Stu — October 12, 2012 @ 11:43 am

[…] Dutch whizz kid rules as WWII Lego specialist […]

Pingback by 24 oranges — February 13, 2014 @ 1:53 pm