Bicycle bags transform into picnic set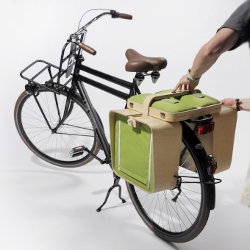 The Springtime picnic set has three life stages, as a pair of bicycle 'bags' (pupa), as a basket (larva) and as a table and two chairs (imago).
The set was design by Jeriël Bobbe. It is made of wood and contains pockets for tableware. It is currently not for sale, according to Bright.
(Photos: Bloon Design)
No Comments »
No comments yet.