Steve Jobs' yacht floats first in the Netherlands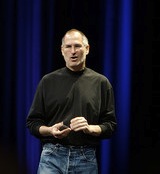 On 28 October, one year after the death of Apple's mastermind Steve Jobs, a yacht he designed together with French product designer Philippe Starck has been put to water in Aalsmeer at the docks of royal shipbuilder De Vries. It apparently took six years to design.
The yacht is called Venus, it's almost 80 metres long, the outside is made of lightweight aluminium with three-metre-high windows and is powered by seven iMacs. Other features include a Jacuzzi, a huge sun deck and a bridge full of mac screens.
The Jobs family had planned to sail around the world with it, but now the yacht will be shipped to the United States.
(Link: www.automatiseringgids.nl, Photo of Steve Jobs by acaben, some rights reserved)
1 Comment »
[…] Venus, a yacht designed by the late Steve Jobs, former CEO of Apple, together with French product designer Philippe Starck and put to water in Aalsmeer, North Holland has been impounded in Amsterdam. Starck is alleging that Jobs only paid € 6 million out of the € 9 million fee he was owed by the Jobs family. […]

Pingback by 24 oranges » Steve Jobs' yacht chained up in Amsterdam — December 21, 2012 @ 7:09 pm