Amsterdam's Church of St. Nicholas to become a basilica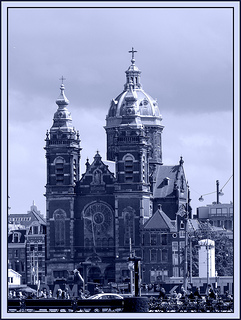 The Church of St. Nicholas in Amsterdam, located right across from Amsterdam Central Station, is being upgraded to the status of basilica according to the Catholic church. It will be officially given the status as of 9 December, making it the 24th basilica in the country.
To be given the title of basilica, a church has to have a lot of regular clientele and has to be a unique work of architecture.
Saint-Nicholas is the patron saint of Amsterdam and of many cities worldwide, as well as the patron saint of sailors, merchants, archers, thieves, children, and in some places, students.
(Link: www.katholieknieuwsblad.nl, Photo of Church of St Nicholas/Sint Nicolaaskerk by Judy van der Velden, some rights reserved)
No Comments »
No comments yet.