Love letter to the landscape of Holland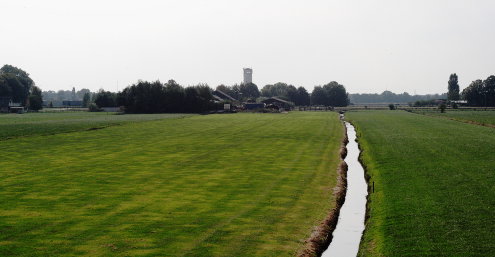 American blogger Abi Sutherland currently lives just North of Amsterdam, and she is slowly getting used to the fact that there are no mountains here:
This is a good spot. The bike path runs between two strips of water, both bright with reflected sky. To my right is a narrow patch of reeds, its leaves beginning to turn purple-brown with autumn. The last light of the day gives them a bit of its orange, a parting gift of warmth and richness. To my left, the fields stretch out for kilometers, flat and treeless. Only the livestock and the woodwork—bridges and little stretches of fence—break the landscape between me and the outlines of the distant trees and towns. Above it all, the sky is full of light.

[…]

This is nothing like anything I have ever known. If my love of California came through the front door and my love of Scotland through the side, this sudden, inarticulate love of the Netherlands is the unexpected guest who appears one day in the living room, ringing no bell and answering no invitation. And yet here it is, and it draws me out of the house and away from the cities every bright day. I go out for half-hour rides and come back three hours later, windblown and bright-eyed.
Go read.
1 Comment »
Mooi om te zien dat ook mensen uit het buitenland ons landschap kunnen waarderen.

Comment by Marloes — November 14, 2012 @ 2:03 pm