Life line for Frisian studies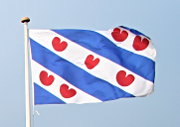 During one of his last days in office former Education Minister Halbe Zijlstra has saved the bachelor programme Minorities and Multilingualism: Into the Frisian Laboratory at the University of Groningen (RUG).
The minister granted the program a subsidy of 120,000 euro per year, the provincial government reported last Tuesday. The RUG will sponsor the programme for the same amount.
In 2010 only one person studied Frisian at the RUG.
Frisian is one of the two official languages of the province of Friesland, the other being Dutch.
Halbe Zijlstra was born in Friesland in 1969, in the town of Oosterwolde.
(Photo by Rupert Ganzer, some rights reserved)
No Comments »
No comments yet.