Concert hall advertises by using its acoustics in amusing ways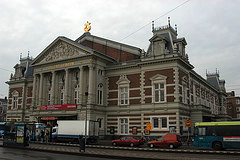 To prove that 'everything sounds better in the Concertgebouw', Amsterdam's beautiful 125-year-old concert hall, some amusing adverts were made, albeit not every one of them brilliant or believable. I find the showering one a bit boring, and I don't need to hear burping children either.
In the video below, the acoustics were tested using three scooters, which sounded much less annoying than they do on the street whizzing by on bike paths. The three scooter guys are pretty typical for Amsterdam's streets, and they had never been in the Concertgebouw before. Having attended concerts there myself, all I can say is that the hall is very live sounding and makes brass and strings sound very vibrant, as long as you have good seats.
(Links: www.improbable.com), www.amsterdamadblog.com, Photo of Concertgebouw by Ben Rimmer, some rights reserved)
2 Comments »
As long as you have good seats? It's only one of the best concert halls on the planet qua acoustics…

Comment by dersk — November 22, 2012 @ 12:57 pm

I've heard the difference depending on the seats I've had. The hall sounds the best on the stage :)

It is sad that the hall is that fantastic and still has to push people to come. They even have DJ nights to convince younger people to go to concerts at this point.

Comment by Orangemaster — November 22, 2012 @ 1:01 pm