Man puts 60,000 euro on car roof for a moment, forgets about it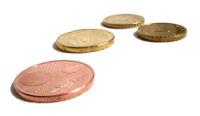 What do you do if you don't trust the banks? You keep your money under your mattress.
What do you do next if you don't trust the locks on the doors of your house? According to Noordhollands Dagblad, this was the dilemma that faced a businessman from Sint Pancras near Alkmaar.
Last week the man claimed he decided to bring the 60,000 euro he had saved over the years to the bank. The man claimed he left the envelope with what he claimed were 120 bills of 500 euro on the roof of his car, after which he walked indoors to answer a phone call, or so he claimed.
The envelope with 60,000 euro may be lying somewhere along the road to Alkmaar. Whoever finds the envelope and its contents can expect a 10,000 euro reward says the newspaper. Noordhollands Dagblad has a couple of interviews with treasure hunters on video.
Today the thaw has set in, so if the envelope is going to be found, it will be today or tomorrow.
1 Comment »
[…] Pancras is the sort of place where people drive around with 60,000 euro in cash on top of their car (or so they claim), so I am not surprised Mr Bloem can afford the court […]

Pingback by 24 oranges » Man fined 237 euro for scratching his ear — September 6, 2014 @ 4:53 pm