Battle of the Beasts: Men's roller derby in the Netherlands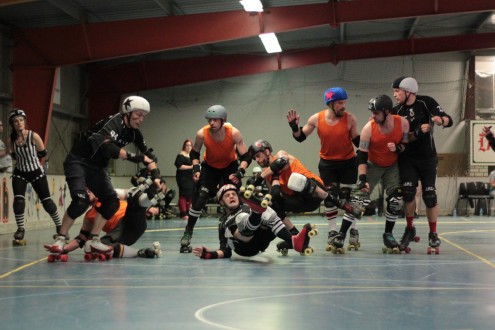 (Team Holland v. Team Germany)
Last Saturday, the town of Valkenswaard, Noord-Brabant played host to the first men's roller derby tournament of the Netherlands, fittingly called 'Battle of the Beasts', featuring three national teams put together for the occasion: Team Holland, Team Belgium and Team Germany.
In a tournament of three complete matches called 'bouts', the men did some heavy hitting in this full contact sport that is in fact originally a women's sport. Not only did this tournament become part of Dutch sports history by being the first ever men's event on Dutch soil, but it also put men's derby on the map in The Netherlands. Team Holland was mostly made up of referees from Dutch women's roller derby leagues, many of which play in the only Dutch men's league from Groningen, Roaring Thunder Men's Derby.
Team Holland took a surprising second place, decided in a nail-biting recounting of points in their second bout, which first had Team Germany pegged as the winners, but then turned into an unexpected win for the Dutch. The small yet dedicated crowd went wild, as the Dutch men performed beyond anybody's wildest dreams. The fact that the Dutch were neck and neck points wise with the Germans was a delight to watch.
Team Belgium was the solid winner of this tournament, beating Team Holland in the first bout and Team Germany right afterwards in the second. For those who don't know, bouts are an hour long with two 30-minute periods called halves, and that's a lot of skating, sweat and in this case as well, injuries, albeit no broken bones.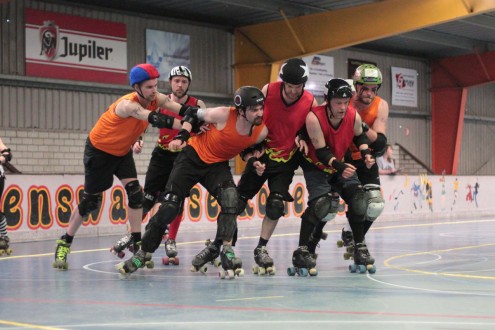 (Team Holland v. Team Belgium)
Team Germany took third place, but put up a fierce fight all day, according to Team Holland's captain, Rollin' Reckless. "We went from zeroes in the first bout to heroes in the third bout. We rose to the occasion. I'm so freaking proud of all the Dutchies."
(Disclaimer: I was one of the announcers of this tournament and Branko was one of the photographers, hence these lovely pictures)