Mysterious gold Canta spotted on Queen's Day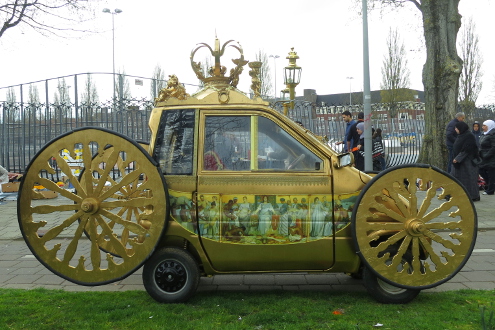 This gold Canta microcar has been driving all over Amsterdam the past few days; I myself spotted it on Olympiaplein in Amsterdam just when Orangemaster and I returned home from the Queen's Day vrijmarkt.
This microcar has been made to look like the the Gold Coach, a carriage owned by the royal family. I don't know who made this 'copy'. It could be some kind of publicity stunt, but Cantas are notoriously difficult to acquire unless you are disabled—the manufacturer only sells to the disabled.
The Canta microcar is by law one of only two brands of cars that are allowed to drive on bicycle paths and pavements..
The Gold Coach was given by the citizens of Amsterdam as a present to Queen Wilhelmina in 1898 for her inauguration. It is still in use today for transporting members of the royal family to formal events. Today Willem-Alexander of the house of Orange-Nassau became king of the Netherlands after his mother Beatrix abdicated, but he did not use the Gold Coach.
See also: Queen's Day 2012