Copper thief electrocutes himself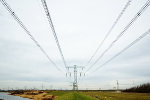 Last Friday a man accidentally electrocuted himself in an abandoned building on Mierloseweg in Helmond, Noord-Brabant, the police believe.
Friday morning a citizen told the police that there was a fire on the premises of a vacant business. When the fire fighters arrived, it turned out there was a man on fire! Although the fire was extinguished, the man died.
During an investigation detectives discovered several copper wires near the corpse that they suspect the man had cut loose. The police believe the 26-year-old man from Beek en Donk had tried to steal the copper from the company's high voltage area and had accidentally created a short circuit which caused the fire.
According to Wikipedia copper theft is big business in the Netherlands. Rail manager ProRail loses about 10 million euro a year due to copper theft. In 2007 a copy of Rodin's Le Penseur was stolen by copper thieves from the garden of the Singer Museum in Laren.
(Photo by Johan Wieland, some rights reserved)
No Comments »
No comments yet.