Dutch doctor cartoon: tasteless, funny or who cares?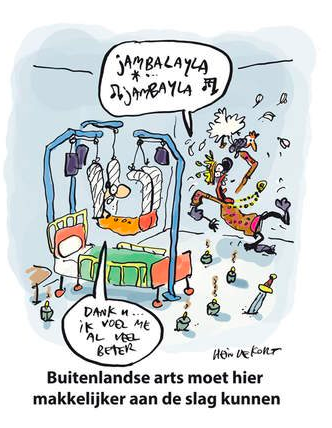 Doctor ('Medicine man'): 'Jambalayla, Jambayla' (= nonsense words, nothing to do with cooking)
Patient: Thank you… I feel much better already.
Caption: It should be easier for foreign doctors to practice here.
I personally know doctors and nurses with perfectly good diplomas from Eastern European countries that cannot or could not find work in the Netherlands, as their diploma was either not recognised or highly devalued.
After 14 years in the Netherlands, a land that generally hates to be politically correct, I can imagine that this cartoon didn't even raise an eyebrow for most people. I'm not saying I agree, but I do understand why people didn't have a problem with it: it's a 'far-from-my-bed-show', the Dutch equivalent of 'it doesn't really concern me', after all the medicine man is just a caricature not a real person, someone would say.
However, I also understand why some people would be offended at the depiction of a tribal sounding African-like Black person portrayed as a quack. I just think the cartoon is not that great (Hein de Kort does have his moments), but it does have a racial slant that could have been avoided.
The media have enough Dutch doctor mishaps to report about. Just today a Dutch doctor hit the presses for unnecessarily removing a man's prostate in Leiden (in Dutch). The man had the same name as someone else. 'Jambalayla, Jambayla' to you, too.
(Link to more info, in Dutch: www.parool.nl)