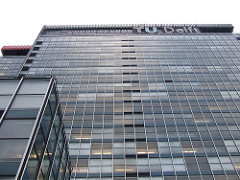 The National Military Museum located on the former air base at Soesterberg had a special attraction recently that had nothing to do with old planes, helicopters, tanks or military equipment: a recumbent bike that is made to go 120 kilometres an hour.
The VeloX 9 recumbent bike – a bicycle that places the rider in a reclining position – was designed by 16 students of the Delft University of Technology and the University of Amsterdam for the World Human Powered Speed Challenge to be held September 8-14 in Nevada, in the United States. Team VeloX 9's goal is to break the women's record of 121.8 kilometres per hour with Dutch riders Rosa Bas from Utrecht and Jennifer Breet from Leiden.
The highest speed ever achieved in the Netherlands on the bike is 70 kilometres an hour purely due to lack of a free, straight track to be able to fully test it. Even at the airfield, it could only go 50 km. What must be a breeze to test in the United States is a space issue in the Netherlands, but that's never stopped the Dutch before.
(Link: rtvutrecht.nl, Photo of Delft University of Technology by Gerard Stolk, some rights reserved)
Tags: Delft University of Technology, Leiden, Recumbent bike, Soesterberg, University of Amsterdam, Utrecht