Spending the night in revamped trams and trains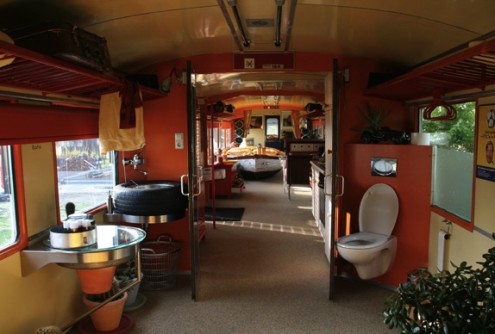 Named after a house that is in turn named after the Prince album Controversy, the Controversy Tram Inn in Hoogwoud, North Holland features overnight stays for the entire family in city trams and railcars converted into five rooms. As well, there are all kinds of other vehicles strewn throughout their farm estate.
Frank and Irma Appel have restored a four-berth train carriage and four themed tram bedrooms in either end of two city centre tram railcars that used to run on the streets of Amsterdam and Germany. You can't help but join in the lifestyle that Frank and Irma have created! They themselves sleep inside a London Double Decker bus, installed in the living room, and their kitchen and breakfast area is a converted French van. Their house is decorated with cars, and motor paraphernalia.
You can't miss the house, it has a Mig fighter plane right outside.
(Links: www.controversy.nl, www.unusualhotelsoftheworld.com, Photo: Controversy Inn)