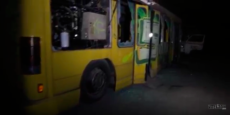 Govert Sweep is an 18-year-old adventurous Dutch guy who enjoys filming and adventure. In the video below, Sweep and his friend Seekrz illegally visit and film a tunnel full of old buses, cars and what not, abandoned under the city of Liège.
The story goes that in the early 1970s Liège was supposed to get a subway system. Huge tunnels worth billions were dug and the subway never happened. Since then the tunnel has been stocked full of old vehicles and you can only imagine what happens down there. Have a video look at what it looked like back in the 1980s on French Belgian telly.
Sweep's video is in Dutch, but you can always use closed captions. At 2:40 they almost get caught by the police breaking in and at 3:35 they finally get into the tunnel. The images say it all and yes, it's proper creepy.
(Link: limburger.nl, Screenshot of the YouTube video by Govert Sweep)