World's first transatlantic 100 Gbps links Maastricht to Chicago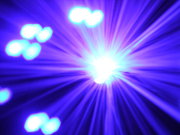 Today, during the last day of the TERENA Networking Conference 2013 (TNC2013) held in Maastricht, the 'largest and most prestigious European research networking conference', featured the first-ever demonstration of a transatlantic 100 gigabits-per-second (Gbps or one billion bits per second) transmission link for research and education between North America and Europe.
Demonstrations of the intercontinental 100 Gbps link included big data transfers between Maastricht and Chicago, Illinois taking a few minutes instead of several hours over the public Internet. This first transatlantic 100 Gbps link for research and education will advance high-end projects such as the experiments at the Large Hadron Collider in Switzerland, the ITER fusion reactor in France and similar international programs.
Short but powerful, as the Dutch would say.
(Link: phys.org, Photo by Jacek Szymański, some rights reserved)