Marijuana scratch and sniff cards for Heerlen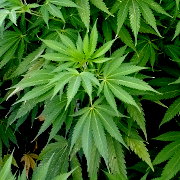 The city of Heerlen, Limburg plans to hand out scratch and sniff cards smelling of marijuana to residents so that they can help report illegal marijuana nurseries. It's not a new idea. Back in 2010 we told you about cannabis scratch and sniff cards to sniff out illegal plantations.
Basically the police need help and what better help than people who think it smells funny over at the neighbour's place.
In Heerlen's case, embarrassement played a good part in bringing up the scratch and sniff card. A marijuana nursery was discovered in a building with a daycare centre, something you don't read about every day and not good publicity for a city that has been fighting its drug-induced image for so many years. [Insert bad joke about children learning what pot smells like at a young age ].
I can still picture the German woman in this story saying it smells like Amsterdam.
Our info from 2010 stated that about 6,000 plantations are found out every year, 300 of which back then were uncovered in Rotterdam alone.
(Link: www.limburger.nl)
1 Comment »
[…] Heerlen teaches it citizens to recognise the smell of marijuana. […]

Pingback by 24 oranges » Looking back at 2013 — December 31, 2013 @ 11:26 am