Bitcoin income shall be taxed, Dijsselbloem says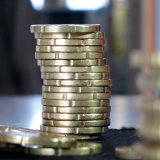 Dutch people who accept payments in the new Internet currency Bitcoin will have to pay income tax on the funds they receive. Finance Minister Jeroen Dijsselbloem confirmed this two weeks ago after parliament had asked questions about Bitcoin, Nu.nl reports.
According to the minister, the "alternative virtual currency" cannot be seen as "electronic money" because it fails the definition set by the Dutch law. Dijsselbloem also reported that approximately 2% of all Bitcoin users in the world are Dutch, and that these Dutch owners possess about 20 million euro worth of Bitcoin. At the time of writing 1 Bitcoin represents about 75 euro.
Internet lawyer Arnoud Engelfriet helpfully explains that the Wet financieel toezicht (the law on financial control) defines electronic money as a monetary value that
Is stored electronically.
Represents a claim on the person or organisation who issues it.
Is issued in exchange for money to make payments with.
Can be used to pay both the issuer and others.
Since Bitcoins do not represent a claim on the issuer and they aren't necessarily issued in exchange for money, they aren't electronic money. The reason you still have to pay income tax is simply because the law on income tax doesn't mention money. Any form of income, whether that income consists of money, goods or Bitcoins, is susceptible to being taxed. The problems start when you have to pay these taxes though, because the Dutch tax office only accepts money. Your revenue will somehow have to be valued in euro before you can calculate how much you have to pay.
I can well imagine that the belastingdienst (tax office) isn't going to chase down small time Bitcoin users just yet. I remember the first time I became self-employed and asked the belastingdienst for a VAT number. The man on the other end of the line laughed at me and said they could not be bothered to issue me my number for the couple of hundred guilders I expected to make that year.
Another complicating matter according to Engelfriet is that Bitcoins aren't financial products either. That would mean you will have to pay VAT ('btw') over the Bitcoins you receive, which would make trading in Bitcoins less attractive for the Dutch.
9 Comments »