Armin van Buuren featured with vinyl records at Madurodam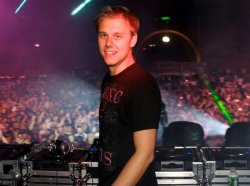 Recently someone asked me if I had ever been to Madurodam in The Hague, an attraction many tourists and Dutch people visit, especially with kids, and my answer was 'no'. Someone also recently asked me why Dutch DJs (music producers, really) Tiësto, Afrojack and Armin van Buuren were world-famous to which I pertly answered that Afrojack didn't count in my books and that the other two make dance/trance music that the Dutch seem to make best.
Now that Armin van Buuren is just that much more popular than Tiësto and considered an export product like some sort of cheese, he's now also featured in Madurodam.
As a DJ myself I am a bit miffed that Madurodam has set up turntables (you know, for vinyl records) as an attraction when in fact Van Buuren plays off CD players. I don't care what he uses, but the art of using turntables is and will always be totally different than using CDs.
Madurodam, you're willfully misleading children. It would be like giving them a chance to play with acrylic paints trying to mimic their favourite street graffiti artist.
(Link: www.omroepwest.nl, Photo of Armin van Buuren by Peter Drier, some rights reserved)