Have DJ Tiësto marry you in Las Vegas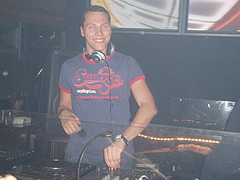 On 17 August, world-famous DJ TIësto will perform at Hakkasan at the MGM Grand Hotel in Las Vegas and he's giving his Facebook fans the chance to have him officiate and spin CDs at their wedding. He plans to pick the lucky couple who give him a good story out of his inbox, so send him some mail at entry@inthebooth.com by August 10.
After reaching 15 million fans on Facebook this week, it is apparently time for TIësto to give back and get even more publicity. He's also giving a whole new meaning to the concept of wedding DJ.
(Links: entertainment.nl.msn.com, www.dutchdailynews.com, Photo of DJ Tiësto by PauliD, some rights reserved)
1 Comment »
[…] this hit list just proves how popular Dutch DJs actually are. In fact, just last summer you could enter a contest to be married by Tiësto in Las […]

Pingback by 24 oranges » Las Vegas club bans and bashes Dutch DJ music — February 4, 2014 @ 2:56 pm