Experts deem Second Coen Tunnel dangerous and even deadly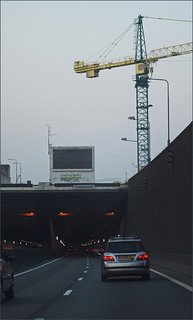 The Coen (pronounced 'coon') Tunnel which runs under the North Sea Canal in Amsterdam built in 1966 is currently being fully renovated, a project that should run until 2014. The Second Coen Tunnel (that's its name) was built from 2009-2013 and has me worried as a passenger when I go through it. I thought it was just me that felt claustrophobic in that tunnel as compared to the first one (shown here), but apparently traffic psychologists aren't fans of the very narrow tunnel either, calling it names like "crash tunnel" and "death tunnel".
Since its opening in mid May, there have been 55 accidents in the Second Coen Tunnel (65 according to other sources), which is either way much more than the average of four accidents a week in the first Coen Tunnel. The experts say they are too many red lights (red lights are used to indicate the right-hand side of the road, while white is for the left-hand side), which look like brake lights, no possible place to stop like in the first tunnel and it is very narrow.
First Coen Tunnel (gets full screen near 0:25), with some hip hop music:

Second Coen Tunnel, straight up, no music:

(Link: www.kennislink.nl, Photo of Coen Tunnel by Erik Tjallinks, some rights reserved)
4 Comments »