Creative camping in fancy design objects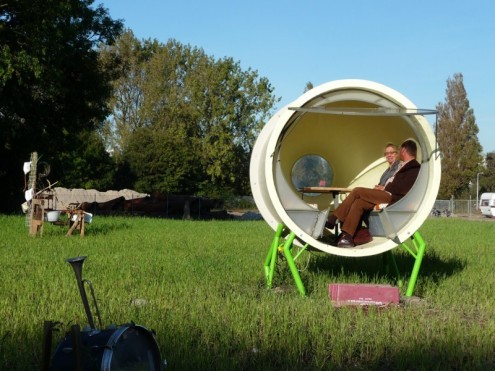 From 16 August to 30 September visitors can stay in one of the 'creative shelters' created by contemporary industrial designers. Each of the 15 mobile units on the campground are equipped with a comfortable bed and some of them have a bit more space that doubles as a small living space. The accommodation shown here is 'Polaris' designed by Boris Duijnevel of MUD projects.
Prices range from 20 to 80 euro a night, depending on the accommodation, and in the Story Caravan designed by Nancy Wiltink, she'll throw in a bedtime story for an extra 55 euro between 10-11 pm that is either romantic or filled with horror so you will 'sleep poor', most probably no pun intended, just bad English (it should be 'poorly', Dutch adjectives and adverbs are often written the same way).
In addition, urban campsite offers guests a zone for campfires, hammocks to relax, a wood-fired sauna, and a picnic spot in front of each installation. the site also provides the visitors with general amenities — a restaurant, a well-stocked shop, laundry and a shower. the creative expression stop stop at the art objects: temporary photo exhibitions will be shown on the grounds, one of the fields will be arranged as a sculpture garden, and the terrain's decoration will be changed regularly.
(Link: www.designboom.com, Photo of Polaris by MUD projects)
No Comments »
No comments yet.