Ties Leenstra is the new children's poet laureate of Groningen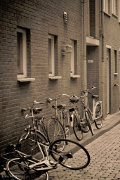 The city of Groningen elected 11-year-old Ties Leenstra as its new children's poet laureate last Saturday, Poëziepaleis reports.
No examples of young master Leenstra's poetry are given, but apparently his points of view are surprising and his words expressive. Leenstra, who recited his entries from memory, follows in the footsteps of Groningen's first children's poet laureate, 12-year-old Sifra Kramer who was also a member of the jury. Asked if he wants to be an important poet when he grows up, Leenstra answered: "No, I'd rather do something else." Leenstra's duties involve writing four poems a year.
Kramer's poems can be read here.
The national young poet laureate Joanne Hoekstra from Augsbuurt in Friesland was elected earlier this year on 2 June.
(Photo by Enric Martinez, some rights reserved)