Astronaut André Kuipers does voice-over work for Disney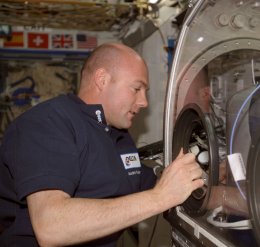 Dutch astronaut André Kuipers is taking an interesting step in his career. He has been asked to do voice-over work for the Dutch version of the Disney animated movie Planes, a spin-off/continuation of Pixar's hit movie Cars.
Kuipers, 54, will be speaking the role of Bravo, a Boeing F/A-18E Super Hornet originally being spoken by American actor Val Kilmer. He said he finds it difficult because you see the images and you really have to pretend it's you.
Having a closer peak at the voices for the American version, Julia Louis-Dreyfus who many of you know as Elaine Benes from 1990s' sitcom Seinfeld will be voicing Rochelle, a French Canadian racing plane originally from Québec that used to deliver mail faster than any other plane, says Louis-Dreyfus in an interview. The flag and paint job to be localized in 11 countries, which means they'll pick other minorities. I wonder what they'll pick in the Netherlands.
(Link: www.nieuws.nl, Photo: NASA)
1 Comment »
[…] Dutch astronaut André Kuijpers does voice-over work for Disney. […]

Pingback by 24 oranges » Disneyland France can't seem to get Dutch staff — March 11, 2017 @ 7:30 am