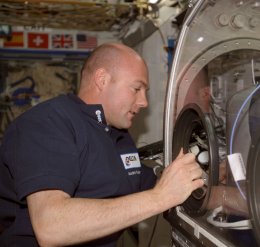 A new species of water beetle discovered during a trip to Borneo arranged by scientists at Ateneo de Manila University in the Philippines and a Dutch firm, Taxon Expeditions, has been named after Dutch astronaut André Kuipers. On the same trip, another beetle was named after American actor Leo DiCaprio for his environmental activism.
When determining a new species of beetle, scientists need to dissect the male genitalia in order to distinguish one variety of water beetle from another. "An internal membranous sac in the male is covered with spines, though whether these aid stimulation during sex or have another role is unknown."
Kuipers also has a planetoid named after him.
(Link: theguardian.com, Photo: NASA)
Tags: André Kuipers, astronaut, beetle