Mike Dalhuisen debuts with the New York Islanders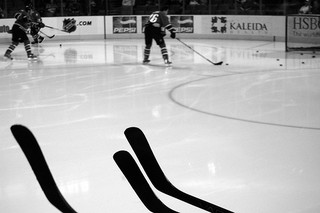 In the Netherlands when anyone says 'hockey' they mean 'field hockey' and when I say 'hockey' I mean the burly guys on the ice like Dutch defender Mike Dalhuisen. Dalhuisen played his first professional game last week with the New York Islanders (often subtitled as 'Highlanders' on Dutch telly — please stop doing that) in an exhibition game against the New Jersey Devils.
Dalhuisen started his career when he emigrated to Ontario, Canada and played at junior level with the Lindsay Muskies, then with Chicago Steel and Lincoln Stars (United States Hockey League) and eventually at Quinnipiac in Connecticut for four years at the National Collegiate Athletic Association level. Now playing for the New York Islanders makes Dalhuisen the first-ever Dutchman to play for the NHL, (National Hockey League), which includes Canadian teams as well despite its name.
"For me field hockey was never an option; it's not physical enough", says Dalhuisen this week in a Spits newspaper interview. Here's what he sounds like in a quick locker room interview: he sounds like a real North American.
Besides the fact that Dalhuisen is a rising star from a country that understands baseball way better than hockey, he's gone viral for having a gloves off fist fight with the Devils' Ryan Carter, despite a 5-3 win for the Islanders. The defender spent 11 minutes on ice and five in the penalty box.
(Links: www.quinnipiacbobcats.com, www.quinnipiacbobcats.com, Photo of hockey sticks by kicksave2930, some rights reserved)
No Comments »
No comments yet.