A warm and fuzzy lamp without drilling holes in the wall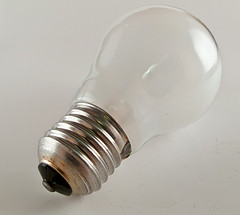 My co-blogger Branko thought of me right away when he saw the Wooll-e, a lamp I could have in my way too dark office without drilling holes in the wall, which I'm not allowed to do.
No more need for screws or nails as wooll-e is a unique ready to hang lamp. The wooll-e is a lamp that doesn't require any tools. Only a power outlet and blank wall space. Designed to be quick-'n- easy. No more drilling holes in your walls. Simply stick the wooll-e discs on your wall and the wooll-e FIX will do the rest!
The felt sleeves of the wooll-e (hence the name is my guess) are handmade from 100% Dutch wool. Even the power cords come in different colours. For 5 euro of funding towards this Indiegogo crowdfunding project, you'll get a thanks, and for anything starting at 95 euro, you get a lamp with combo packs going for up to 210 euro.
(Link: www.indiegogo.com, Photo of Lightbulb by Emil Kabanov, some rights reserved)
1 Comment »
Thanks for featuring our wooll-e lamp here on 24 Oranges, that's just awesome.
For all of you out there: " If you ot two left hands? Then this crowdfunded no-drilling-needed wall lamp is for you. "
After two weeks of running our wooll-e campaign on indiegogo we've reached 26% of our goal. Help us launch 100 lamps around the world and let us learn from your feedback. Support Dutch-design and make us wooll-e the world:)
See how much fun the wooll-e brings http://www.youtube.com/watch?v=1__gordvGs4&feature=player_detailpage

Comment by The world of wooll-e — October 7, 2013 @ 12:24 pm