Woman walks through artwork and wrecks it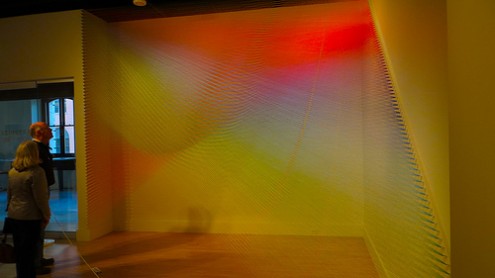 The Rijswijk museum in South Holland has been holding the Textile Biennial 2013, which runs until 27 October. However, last Friday a woman walked right through an artwork made up of blue and yellow sewing string and trashed the showcase piece Plexus No. 23 (watch him create it) by American artist Gabriel Dawe, saying that she was blinded by sunlight and didn't see the installation.
Before you judge her, here's the description of the artwork: "Gabriel Dawe captures light. He makes one-off site-specific installations of coloured threads. Clusters of threads fan out, stretching between floor and ceiling, reminiscent of captive rays of sun or a piece of the rainbow".
Since the artwork cannot be restored, the artist will create another piece for the museum this week.
(Link: www.telegraaf.nlPhoto of Plexus No. 18 by Gabriel Dawe by ellenm1, some rights reserved)