Touch Van Gogh without leaving the comfort of home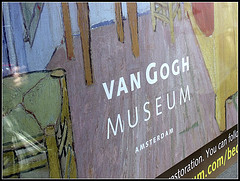 Last week Amsterdam's Van Gogh Museum launched the 'Touch Van Gogh' app, allowing people to examine paintings by Vincent van Gogh in minute detail. The app is free and lets people 'discover the secrets of Van Gogh's painting techniques and learn more about his working methods.'
The app shows how a painting looked before restoration, exactly where it was painted, where the paint has become discoloured, and how the composition is constructed. This English-language app is available for iOS 6 and Android, and can be downloaded from the Apple Store and Google Play.
Touch van Gogh is available in the exhibition 'Van Gogh at work', which will run until 12 January 2014. This anniversary exhibition features how Van Gogh developed, through ten years of working and learning, into 'a unique artist with an astounding oeuvre'.
(Link: www.dutchdailynews.com, Photo of Van Gogh Museum poster by Elias Rovielo, some rights reserved)
No Comments »
No comments yet.