A naked dating show, the next level in reality television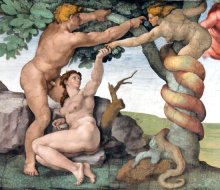 Here we go again: another reality show on yet another 'deserted' island with yet another bunch of seemingly unattached not too bad looking young people, but this time they are naked. 'Adam looking for Eve' ('Adam zkt. Eva' in Dutch) is going to hit televisions in 2014 and is considered going 'back to basics', that is, instead of hiding behind social media for dating purposes, this show gets it all out in the open very literally.
First of all, I don't like the title: why can't Eve look for Adam as well? Does it really have to imply that men chase like cavemen and women are just dumb prey? The naked part is easy shock value and upping the game no matter what the makers say. They'll put dumb people on the show for sure because that sells very well, naked or not.
(Link: www.wel.nl, Illustration by Michelangelo)
No Comments »
No comments yet.