Lou Reed's Perfect Day rings out in Groningen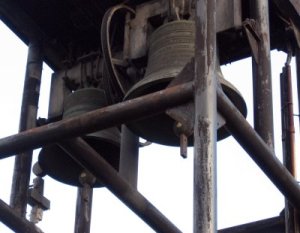 The story goes that the late Lou Reed was in Groningen in November 2008 for one of Laurie Anderson's (one of his wife's) concerts. He was invited to visit the Martini tower to have a look at its carillon. The city's bell ringer Auke de Boer gave Lou and Laurie a tour and let them play the carillon. Lou was very interested in this historical instrument and later gave his permission to use Perfect Day for a special event on the carillon. The tribute was played on Saturday 2 November 2013 exactly 5 years and one day after Lou and Laurie visited Groningen.
The bells kick in at 0:27.
(Link: trendbeheer.com)