Nothing tops Groningen as a cyclist's paradise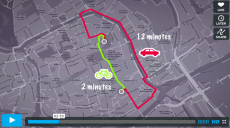 Groningen, a city in the North of the Netherlands whose slogan is 'Er gaat niets boven Groningen' ('Nothing tops Groningen') has some 196,000 residents, a quarter of which are students and where half of the population, if not more, gets around by bicycle. The film by Clarence Eckerson Jr., an American who was inspired by what he saw, tells the story of how cycling took over Groningen.
Travel times by car are longer (see screenshot) and cycling is faster because cars need to go around the city center to get from one part of town to another, while bikes can go anywhere. At about 9:00 into the film, you can see that even IKEA, apparently a very big one, has serious accommodations for cyclists. The one downside of this film is that it's not bright and sunny like that very often, but again, when it is, you have a great excuse to get out on your bike.
Watch the whole film and get a feel for Groningen, always a lovely place to visit and a city we like, too:
Lou Reed's Perfect Day rings out in Groningen
University of Groningen gaining popularity with Brits
Groningen students build world's largest touch screen
Watch the film, it's in English (and some Dunglish):
Groningen: The World's Cycling City from Streetfilms on Vimeo.
If you want more, there's always Bicycle anecdotes from Amsterdam, which has a friend of 24oranges nicely waiting for a tram to go by.
(Image: Screenshot of Groningen: The World's Cycling City)
No Comments »
No comments yet.