Dutch architect designs house with a 360 degree view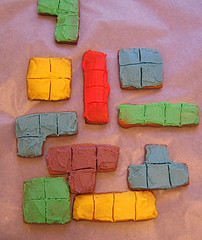 Dutch architect Janjaap Ruijssenaars of Amsterdam, known internationally for projects such as his building to be built using a 3D printer, has designed a house with a 360 degree view (video).
Inspired by the Russian game Tetris, Ruijssenaars thought up a row house made of blocks placed in such a way that every room has a different view of outside instead of just being able to see out the front or out the back. His idea was based on a building contest in Peru in 2009 which was about increasing density. By having more people use the same space, he was able to increase the density as well as the quality of the residences.
It remains to be seen who will be the first to build these houses. And although different, they do remind me of Habitat 67 in Montreal by Moshe Safdie.
(Link: www.telegraaf.nlPhoto of Tetris cookies by Rakka, some rights reserved)