Dutch cars on the road are black, grey and white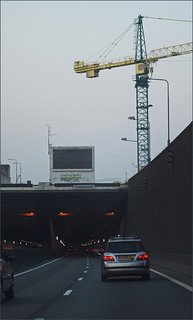 Recently the Dutch Road Transport Directorate (RDW) has made some information about car registration accessible as open data, which means you can have a look at types of cars, license plates and even car colour.
In 2013 black, grey and white cars accounted for 80% of all cars sold. In Munich, Germany I was once told that most cars, besides being German brands like BMW, Audi, Mercedes and Volkswagen are usually dark blue, black or grey. The only exception would be Porsche as it is more high end, and then red, orange and yellow come into the mix.
The reason for the drab colours according to no statistics whatsoever and a decent amount of beer was that 'neutral' colours are easier to sell second hand than red, yellow and green cars. And when I think of a red car, I picture a Ferrari and if I think Lamborghini I picture a bright yellow car. I've seen a dark blue Ferrari and a grey Lamborghini and not only are they both boring, but they actually seem less expensive.
I heard a few times that pink cars get stolen more often as do red and white Opel Kadetts, which practically had their own column in Nijmegen's regional paper De Gelderlander when I used to live out there.
(Link: sargasso.nl, Photo of Coen Tunnel by Erik Tjallinks, some rights reserved)