The Hoff sings Fresh Prince theme tune with a twist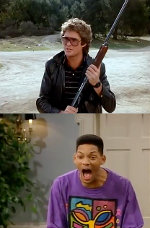 Rotterdam-based video artist Matthijs Vlot created this clip of David Hasselhoff singing the theme tune to The Fresh Prince of Bel-Air by splicing together clips from several shows the actor was in, including Knight Rider and Bay Watch.
I've seen this format before, but Vlot adds a twist. What the twist is you will have to see for yourself.
Apparently Hasselhoff tweeted "Amazing clip!" upon watching the video. More videos from Vlot can be found on his website, mattatjeoorlog.nl (a pun on 'pattatje oorlog', fries with peanut sauce and mayonnaise). The name of the video, The Rip-Hoff pt. 1, suggests there's another video involving The Hoff in the making.
Illustration: screen captures of Vlot's video.