Boffins develop first ever sports drink for horses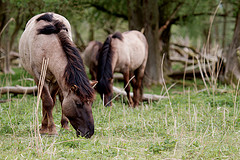 The Healthy Horse Hydration, already a mouthful to pronounce for many, is meant to be a sports drink for horses, the first ever of its kind.
For the record, if I were asked to come up with a better product name (I do get hired for product slogans), I'd call it 'Power Horse' or maybe 'Horse Power'.
After a good run, the idea is to give your horse some HHH (why does that sound like a drug?) which apparently smells of apples. According to the video found in the link, it took hundreds of thousands of euro to develop the product, a pouch full of powder that dissolves in water when stirred that does look like apple juice. One of the scientists explains that the horse drinks the juice in the bucket thinking it will also get an apple and just ends up drinking the entire bucket.
On the whole, giving your horse a good drink after a good run sounds fine. Humans more often than not gulp down sports drinks for all the wrong reasons, including the insane amount of sugar in them. As well, comparing HHH to caffeine or taurine based drinks is already a huge mistake, as they are marketed as 'energy' drinks and not as sports drinks, plus they actually dehydrate instead of rehydrate.
And then there's the Dutch word 'paardenmiddel' (paarden = horses, middel = means), which means 'last ditch effort' for something, which funny enough could work against the Dutch market image and partially explain the sour apple comments about HHH so far. Then again, if people don't know the difference between sports drinks and energy drinks, their comments are for entertainment purposes only.
(Link: www.omroepbrabant.nl, Photo of Oostvaardersplassen horses by fransdewit, some rights reserved)