Tax office in Friesland refuses Frisian letter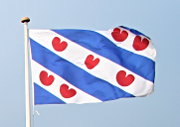 The National Frisian Party claims to have received an unfair fine of 50 euro and decided to complain about it to the local tax office in Leeuwarden, Friesland in the Frisian language.
The law says that if the letter of objection is submitted in a foreign language and a translation is needed to be able to process the objection, the person submitting the letter must provide a translation. The thing is, Frisian isn't a 'foreign' language (as in from another country), it is one of the Netherlands' recognised minority languages.
According to AD.nl, The NFP is waiting for an answer from the tax office about what their policy actually is with regard to what constitutes a 'foreign' language for them. As well, it's quite surprising that nobody at the tax office in Leeuwarden is apparently capable or willing to read Frisian, considering that Friesland has some 350,000-400,000 native speakers. I have a feeling that if the tax office were to receive a letter in English or German that they wouldn't have any problems with it, considering their site is partially in English and German.
(Link: www.ad.nl, Photo by Rupert Ganzer, some rights reserved)
1 Comment »
[…] Tax office in Friesland refuses Frisian letter. You can't talk to the tax office in any other language than Dutch for legal reasons, something we hadn't mentioned back then. […]

Pingback by 24 oranges » Grieving parties must purchase software to fill in tax form — October 15, 2014 @ 10:45 am