Bookshop owner to go to court for selling Hitler's memoirs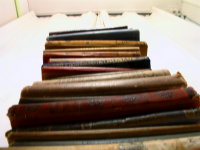 Michiel van Eyck, owner of the Totalitarian Art Gallery in Amsterdam was questioned by police for an hour recently on the sale of Adolf Hitler's memoirs Mein Kampf.
You see, the sale of Mein Kampf is banned in the Netherlands under anti-discrimination laws. Sure, you can just score it online instead, which is legal and makes the ban absurd and not very useful.
Van Eyck feels that selling the famous memoirs is not inciting hatred, as he also sells books written by Stalin, Mao and the likes. He hopes to go to court to have what he feels is an outdated ban overturned.
(Link: www.amsterdamherald.com)