A chip linked to your ID to drink in Eindhoven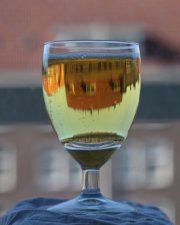 There's this street in Eindhoven called Stratumseind or 'Stratum' full of cafés that mostly cater to students. The cafés are so close to each other that people walk around like it's one big café, at least that was my memory of it a few years back.
As of mid March, the cafés owners have decided that patrons are to wear bracelets with a chip in them linked to some ID, like pigeons in the park. People will be tagged so that the cafés don't have to constantly check if they are old enough to drink, something apparently the city has come up with. Making sure people are old enough to drink means the cafés lower the risk of selling alcohol to minors.
As of 1 Jan 2014, the drinking age went up from 16 to 18, although 16 and 17-year-olds could not buy or be served hard liquor. The cafés that refuse to go along with this scheme will be monitored à  la Big Brother more closely — surprise, surprise.
You can't possibly force anybody to wear anything to drink in a café, but you can ask them to produce ID. As well, this totally ignores anybody from out of town like tourists or visitors, how very forward-thinking. Guilty until proven innocent, someone please challenge this in court, it's ridiculous.
(Link: www.ed.nl)