Tourist film about the Dutch keeps it white and cheesy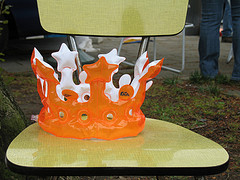 The tourist video 'Going Dutch' premiered in the Concertgebouw in Amsterdam last November and yes, it is well shot. I very much like the voiceover with its impeccable pronunciation, as it has the right tone for that in-flight video feel. In fact, if you wanted to convince some friends and family abroad to visit the country this video wouldn't be a bad place to start. The film does focus heavily on Amsterdam, which is often the first place people visit and then unfortunately associate with the entire country. Although you may learn something, I mostly saw stereotypes being reinforced like a dam with a leak in it.
Some 5 minutes into the film when basking in the past glory of Dutch football accomplishments, they actually mention that 'women's football has been given a boost in recent years' although let's face it, nobody here gives a rat's ass about it. At about 7 minutes in we get into Dutch art, which again relies on the classics, but that is to be expected.
We continue on to 10 minutes in and 'Dutch craftsmanship' pushes top Dutch brands Philips and Bols — music and booze if you will. About two minutes later at 12 odd minutes, the 'Dutch water' bit focuses on in and around Rotterdam, with dams and shipping containers. At around 15 minutes, it's about Dutch food and it shows herring and haute cuisine side by side, which doesn't reflect reality at all. However, the cheese tour makes up for it and the white blonde Dutch narrator dares call himself a 'cheese head'.
The testosterone-induced business atmosphere of the Zuidas, where a few wannabee skyscrapers are clustered, doesn't work for me at all, but then it is often forced into every business film to make it look like we have a proper financial district. Speaking of getting down to business, Dutch music gets its bit at 20 odd minutes in after having used a picture of internationally famous singer Caro Emerald but completely ignoring her and skipping to classical music on the one hand and Dutch dance DJs (all men) on the other. By then I've seen three visual references to Tiësto, then finally a female DJ is on screen, but oh no, she starts praising the success of her male colleagues abroad.
In the end, the narrator is in what I think – and I am guessing here — Monnickendam, giving two blonde women passing by a badly acted once-over, as he says "come see for yourself what the Netherlands has to offer." [Insert facepalm here].
Don't get me wrong, we wouldn't be writing this blog if we didn't think the Netherlands (the entire country, not just Amsterdam) had tons to offer, but giving the impression to foreigners that everything is mostly done by white men in 2013 is scary and unrealistic. The only time ethnic minorities are shown on screen is when they plug the tolerance cliché and the muliticulti one (filmed in Amsterdam) because ethnic minorities don't seem to be of any use otherwise, not even in the food part.
It's safe to say that history is basically repeating itself.
(Link: www.rtvnh.nl)