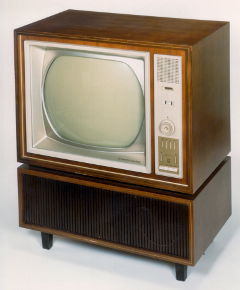 Eindhoven's former science museum Evoluon that ceased its activities in the 1980s and is now being used as a location for events, congresses and temporary offices, is finally up for sale. However, as a national monument since 2013, its new owner will still need to have some connection with presenting technology to the world, as it was originally intended by Dutch multinational Philips.
Nobody really knows how much Evoluon will be sold for, but potential buyers say "more than a few million", which will also include a huge lot the size of about 10 football pitches.
A while back we told you about a 12-minute promotional film made in 1968 that provides a fascinating insight into the experience of the science museum for people who never got to see the real thing.
(Link: ed.nl, Photo of the first Philips colour TV from 1964 by Philips, used with permission)