Banning weed smoking legal despite weed being illegal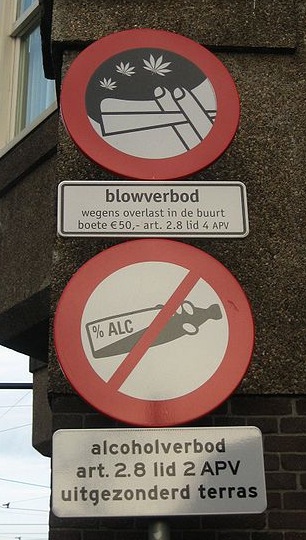 In 2011 Amsterdam challenged and eventually won in high court the right to designate certain areas as as non-pot smoking zones. Rotterdam recently challenged the law as well and has also won its case. If smoking pot in these areas is deemed unsafe, then it becomes a matter of public order and can be legally enforced, as long as the cities take this up in their local public ordinance.
The reason why this wasn't cut and dry was that the Opium Law governing soft drugs basically states that marijuana is illegal, again something many people still don't know because the law is willfully ignored. And since marijuana is illegal you can't forbid it again, as that would be crazy talk.
However, due to the oddness of the Dutch situation both cities now have a workaround. Stopping people from smoking altogether is often enough, but in many places people are allowed to smoke outside, regardless of how funny their cigarette smells.
(Link: www.nieuws.nl, Photo of No-blow (and no drinking) sign by Erik Joling, some rights reserved)
No Comments »
No comments yet.