No more 'no-blow zones' for Amsterdam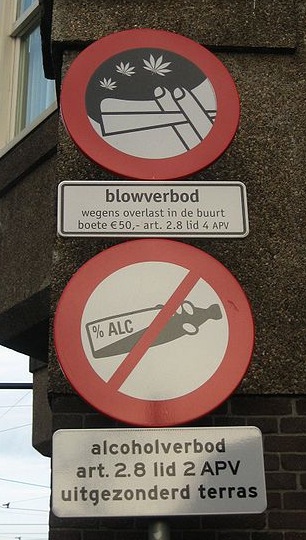 The city of Amsterdam has been told today by the Council of State (no more appeals can be made) that it is breaking the Opium Law by putting up signs that designate certain places as 'no-blow' zones ('blowen' in Dutch is smoking pot). The first ever area of Amsterdam was around a public place called Mercatorplein, 800 metres from my place.
Mercatorplein is notorious for being regularly overhauled (love the last job, with a play fountain and trendy restaurant) and having been designed by famous artist H.P Berlage (with a tower that was broken down in 1961 and rebuilt in 1995). In recent times, it has been the backdrop for a riot between the Dutch Moroccan community and the police, as well as a hit and run where the driver ran over a known female cabaret artist, but the licence plate of his car fell off.
Way back some residents in the East of the city asked for the ban to keep their kids' playground clean. They actually didn't get the ban, only because the city thought it was a bit harsh.
In the Netherlands and contrary to all the tourist websites, soft drugs are illegal, as stated in the Opium Law. But yes, we go to the coffee shops and buy pre-rolled joints just like you buy a pack of smokes at the shop. The law is simply ignored and soft drugs are 'tolerated'.
The crazy logic is because soft drugs are forbidden, you don't need a sign to forbid them again. Of course, this is not in tune with reality, but then again neither is the Opium Law.
(Link: blikopnieuws.nl, Photo of No-blow (and no drinking) sign by Erik Joling, some rights reserved)